Lifetime Achievement Awards
2023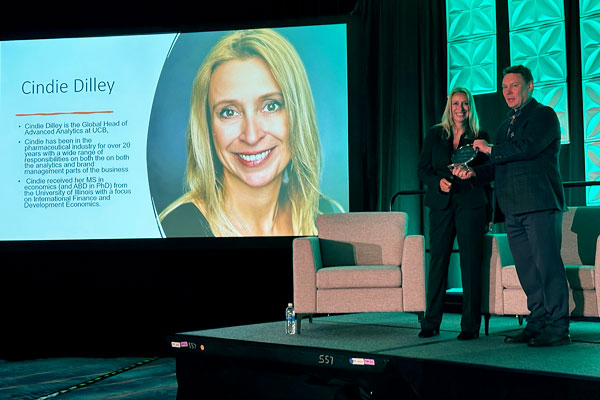 The 2023 Lifetime Achievement Award was presented to Cindie Dilley, Global Head of Advanced Analytics at UCB, for her contributions to PMSA and the pharmaceutical analytics community.
Cindie began her service with PMSA on the Program Committee in 2011, then served as Treasurer and Vice President before becoming President in 2015. Overall, she served on the PMSA Board for 9 years. Cindie significantly contributed to PMSA by growing the organization and promoting PMSA events, and started multiple PMSA initiatives that took PMSA to the next level.
Cindie has been in the pharmaceutical industry for over 20 years with a wide range of responsibilities on both the analytics and brand management parts of the business. Cindie received her MS in economics (and PhD) from the University of Illinois with a focus on International Finance and Development Economics.
2022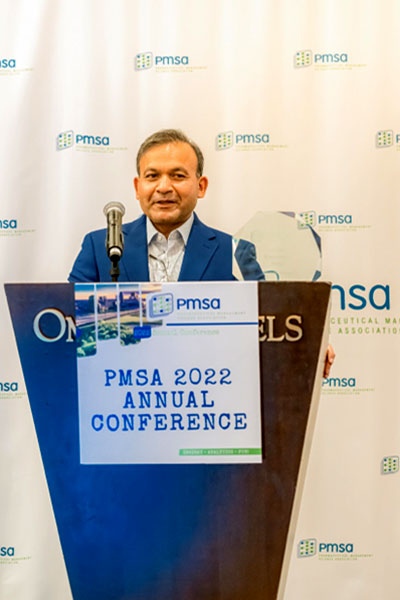 The 2022 Lifetime Achievement Award was presented to Devesh Verma, Ph.D, Principal, Decision Sciences at Axtria, for his contributions to PMSA and the pharmaceutical analytics community.
Devesh joined the PMSA Board in 2013 as part of the Program Committee. He later served as the Research Committee Chair and Treasurer. Devesh led multiple initiatives to broaden the reach of PMSA to life science's management science society by launching PMSA's webinar series and acting as the Chief Editor of PMSA's Journal. His contributions have led to strong collaboration between the vendor and the manufacturer side of the industry.
Devesh is an industry leader in applying management science techniques to solve pharmaceutical industry problems. Prior to joining Axtria, Devesh led brand marketing for Daiichi Sankyo's hypertension and metabolic franchises, and the company's market planning function. He started his life sciences journey with marketRx in 2001, which was later acquired by Cognizant Technology Solutions.
Devesh holds a Doctorate in Management Science and a MS in Aerospace Engineering from the University of Minnesota and a MS in Aerospace Engineering from the Indian Institute of Technology at Kharagpur.
2020
Andy Aiken received the 2020 PMSA Lifetime Achievement Award. He has been one of Analytics, Management Science, and Forecasting Leaders for the last 25+ years. With the great experience at Eli Lilly, Pfizer, and Novartis, Andy took Analytics and Forecasting to the next level. Andy was an instrumental part of PMSA for a last 20 years and was president of PMSA in 2008. We want to thank Andy for his great contribution to PMSA and Analytics Community!
2019
Michel Denarié received the 2019 PMSA Lifetime Achievement Award, presented at the 2019 PMSA Annual Conference, April 15 in San Diego, California, forhis contributions to PMSA and the pharma analytics industry.
Michel Denarié is a Sr Principal with IQVIA's Strategic Drug Development team, a group that helps sponsors with their early clinical development strategy. Denarié's experience in the pharmaceutical industry spans three decades and encompasses roles in sales, marketing, and offering development, both on the pharma and vendor side of the industry. A frequent author and speaker, Denarié's work has appeared in several trade publications. He has presented research findings and methodologies regarding the advanced application of patient-level data at numerous industry conferences, including events sponsored by the DIA, the Pharmaceutical Management Science Association (P.M.S.A.), the Pharmaceutical Research Group (PMRG), the International Society for Pharmacoeconomics and Outcomes Research (I.S.P.O.R), and the Association of Clinical Research Professionals (ACRP).
Denarié earned an M.B.A. from the Colgate Darden Graduate School of Business Administration at the University of Virginia and holds a B.S. in finance from the American University in Washington, DC.
He has presented at and attended numerous PMSA conferences, including our European Symposium. He has demonstrated consistency in abstract submissions year after year, and long term support of PMSA. He has a consistent desire to engage in meaningful conversations about the business.
2018
Thomas Foster and Jerry Rosenblatt received the 2018 PMSA Lifetime Achievement Award, presented at the 2018 PMSA Annual Conference, May 1 in San Antonio, Texas, for their contributions to PMSA and the pharma analytics industry.
Thomas has been present and participated in many of our industry's major evolutions since he began his career over 25 years ago. He started his career, as most successful pharmaceutical executives do, as a wildcat oilman drilling wells in the panhandle of Texas! After doing that for a number of years, he sold his company to Total, the largest French oil and gas conglomerate. After taking a year off to learn golf and enjoy life a little, a friend called him up and asked Thomas to join a startup life sciences research company as Chief Operating Officer. The new company was funded with a hundred million in seed capital to acquire and operate clinical research sites conducting late-stage research for psychiatric drugs. After just two years, suitors came calling. Helix was sold piecemeal to an array of the early CROs, and Thomas had his second exit while still just 29 years of age.
It was then that Thomas began his "big pharma" career as a management scientist. Notably, he joined Cambridge Pharma Consultancy as Head of Strategy. In that role, Thomas was among the first to define and professionalize the domain of pricing and reimbursement. His work added significantly to the concept of what we now call "value of medicines." He built on the work of others, and also produced significant individual contributions to the empirical approaches to determine drug prices at appropriate levels that both reward innovation and provide access to the greatest possible number of patients. Thomas has helped price seven of the top ten best selling drugs of all time.
Cambridge Pharma was acquired by IMS in 2002, and Thomas became Vice President of Consulting. At that time, he was also named the very first Fellow at the MIT Sloan School of Management, Center for Biomedical Innovation.
In 2008, Thomas and his good friend, Jerry, while at a bar in Manhattan Beach California, wrote a business plan for the ultimate marketing consultancy. And the "Tom and Jerry Show," the consultancy… not the cartoon… was born.
Jerry has been a Marketing Scientist for his entire academic and professional career - almost! After completing his B.A. from McGill University in Montreal in History and Political Science – a momentary lapse of judgment where he considered becoming a lawyer – he course corrected and enrolled in business school where he completed an MBA and PhD in Marketing Science. He had found his calling. His Doctoral Dissertation was honored with the First Prize Award at the 1986 Academy of Marketing Science in Anaheim, CA. His academic career in Montreal flourished where he published over 100 conference and journal articles, became a tenured professor and held many university positions including Director of the MBA Program and Associate Dean of the John Molson School of Business, until his retirement in 2003.
Jerry's professional/consulting career began in the early 1980's. While teaching in the MBA program at McGill University, he supervised the Masters' theses of numerous students who worked in the pharmaceutical industry. This was his introduction to applying Marketing Science methods to the challenges facing pharmaceutical marketers. The consulting opportunities were abundant. He partnered with a colleague and together they built a well-respected boutique consulting company, the Rosenblatt-Klauber Group. The firm's success caught the attention of IMS Health, which ultimately acquired the company in 2002. As part of the acquisition, Jerry became the Head of the IMS Global Forecasting & Opportunity Assessment Consulting Practice – his second momentary lapse of judgement! It was actually a great move – that is where Jerry met Thomas Foster, who turned out to be his boss at IMS! They forged a close partnership at the firm, so much so, that in 2008 Jerry partnered with Thomas, to form what is now Foster Rosenblatt – and the rest is history!
2017
The Pharmaceutical Management Science Association (PMSA) is pleased to announce that Kevin Kirby has received the 2017 PMSA Lifetime Achievement Award, presented at the 2017 PMSA Annual Conference, April 25 in Orlando, Florida, for his contributions to PMSA and the pharma analytics industry.
Kevin Kirby is a Partner at Michael Allen Company, an independent consulting firm helping pharmaceutical and biotech organizations optimize their commercial operations. Since joining Michael Allen Company in 2005, Kevin has led innovation in the areas of promotion response, sales force size and structure, managed care analytics, targeting, incentive compensation, and marketing mix optimization. His recent work includes navigating biosimilar launches, measuring and leveraging IDN control, and optimizing uptake of targeted therapies and companion diagnostic tests.
Previously, Kevin led Marketing Science at Genentech, providing independent analytics and strategic guidance for the Sales and Marketing clients. There, he established analytics, tools, and techniques to support key product launches and drive sales optimization.
Kevin holds an M.S. in Operations Research and a B.S. in Statistics and Economics from North Carolina State University. He was President of PMSA in 2004 and helped usher in changes that continue to help the organization grow today. He served on the PMSA Board for six years. He has presented at the PMSA annual conference multiple times.
2016
The Pharmaceutical Management Science Association (PMSA) is pleased to announce that David Wood has received the 2016 PMSA Lifetime Achievement Award, presented at the 2016 PMSA Annual Conference, April 19 in Las Vegas, NV, for his contributions to PMSA and the pharma analytics industry.
David Wood is a great analytical mind. As you engage with him, the first thing that comes across is the passion he has for quality analytics," said PMSA President David Purdie. "What makes him a great contributor to PMSA is how he turns his passion into limitless training for upcoming analytical minds. He is not afraid to share, discuss, and challenge.
David Wood, PhD brings more than 35 years of experience in mathematical modeling of business problems, with over 20 years in sales and marketing analysis for Life Sciences companies. At Axtria, David serves as a Senior Principal, with emphasis on projects in mathematical modeling of sales operations and multi-channel promotion analysis.
Prior to Axtria, he was a Sr. Vice President at marketRx, where he did significant work in all forms of sales and marketing optimization in the health care, pharmaceuticals, and managed care industries, with scores of engagements including sales and marketing structure, site location, and multi-channel marketing. David served as Executive Director for Strategic Planning Consulting at Health Products Research (now part of inVentiv Health). In addition, David has done substantial work in the development of Yield Management for the commercial airline industry (at Sabre Decision Technologies), and has worked in finance, energy and natural resource economics issues.
David holds a PhD from the University of California, Berkeley, in Operations Research.
2015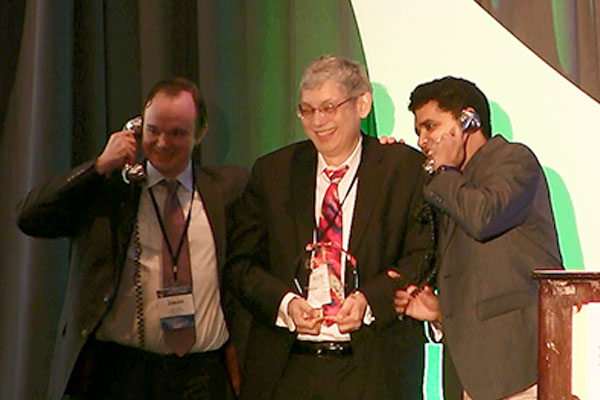 The Pharmaceutical Management Science Association (PMSA) is pleased to announce that Jean-Patrick "JP" Tsang has received the 2015 PMSA Lifetime Achievement Award, presented at the 2015 PMSA Annual Conference, May 19-22 in Arlington, VA, for his contributions to PMSA and the pharma analytics industry.
Jean-Patrick Tsang is the Founder and President of Bayser, a Chicago-based consulting firm dedicated to pharmaceuticals sales and marketing. JP is an expert in patient-level data and related analyses ranging from longitudinal analyses to hospital-retail spillover, KOL identification, influence mapping, referral networks, molecular targeting, promotion response, and the like. JP is also an expert in managed care and has worked on numerous managed care projects. JP publishes and talks on a regular basis and runs one-day tutorials several times a year. In a previous life, JP deployed Artificial Intelligence to automate the design of payloads for satellites, methaners, ethaners, and cruise-liners. JP earned a Ph.D. in Artificial Intelligence from Grenoble University and an MBA from INSEAD in France.
2014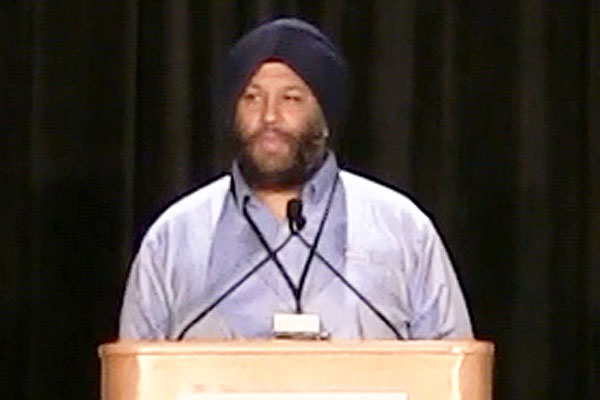 The Pharmaceutical Management Science Association (PMSA) is pleased to announce that Jaswinder ("Jassi") Chadha has received the 2014 PMSA Lifetime Achievement Award, presented at the 2014 PMSA Annual Conference, May 18-21 in Orlando, FL. Jassi started in the industry almost 20 years ago with Health Products Research, and went on as co-founder & CEO of marketRx and Axtria.
Over the past 15 years, Jassi has pioneered and innovated techniques in commercial analytics and assessments in sample management, promotional optimization and a myriad of other applications," said Jason Carlin, President of PMSA. "His willingness to challenge convention and offer a competitive vision has made our industry and community richer and more robust.
PMSA is the preeminent professional organization in our industry," said Chadha. "Just earning a peer-reviewed invitation to present at the conference is a career highlight. I am honored to be recognized by the PMSA, and humbled to stand amongst some of my heroes in the industry. All of us stand on the shoulders of giants, such as Robert Brown, Prabha Sinha, Andy Zoltners, and others.
Jassi is co-founder and CEO of Axtria, Inc., an analytics firm dedicated to helping clients make better data-driven decisions. Previously, Jassi was co-founder and CEO of marketRx; winner of 2004 E&Y "Entrepreneur of the Year" award; 2003 "Top Forty under Forty" by NJBiz Magazine; and 2009 PharmaVOICE 100, which recognizes the 100 most influential people in the life sciences industry. Jassi sits on the boards of several companies, including Occular Therapeutics and SpectraMedix, as well as non-profit organizations, including TiE Global and Panjab Digital Library.
2012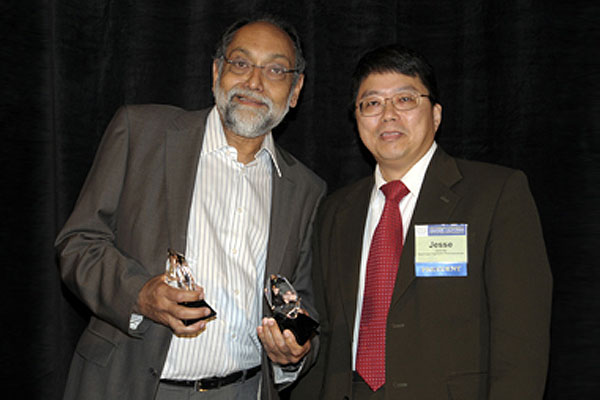 The Pharmaceutical Management Science Association (PMSA) announced the recipients of the 2012 PMSA Lifetime Achievement Award at the 2012 PMSA annual conference. Drs. Andy Zoltners and Prabha Sinha, founders of ZS Associates, current and former professors of marketing at Northwestern Kellogg School of Business, were presented with the award for their pioneering and paradigm-shifting contributions to the management analytics field in the pharmaceutical and biotech industry, particularly in data driven modeling of sales force size and structure.
Dr. Zoltners is a Frederic Esser Nemmers Distinguished Professor Emeritus of Marketing at the Kellogg School of Management at Northwestern University, where he has been a faculty member for more than 30 years. His areas of expertise include sales force strategy; sales force size, structure and deployment, compensation and effectiveness. He has presented and taught at numerous conferences, and has published more than 40 academic articles. Additionally, he has co-authored a series of books on the topic of sales force management.
Dr. Sinha was an Associate Professor of Marketing at the Kellogg School of Management until 1987. He continues to teach and present to executives at the Kellogg School and at the India School of Business. His areas of expertise include sales force strategy and effectiveness. He has published over 30 academic articles, and has co-authored a series of books on sales force management.
The two co-founded ZS Associates, a business services firm which provides marketing and sales expertise to various corporations, in 1983. The success of ZS was recognized by their induction into the Chicago Entrepreneurship Hall of Fame in 2005. ZS Associates' expertise has figured prominently into the success of the pharmaceutical management industry.
PMSA held its Annual Conference at the Hyatt Regency Orange County in Anaheim, California, from May 20-23, 2012. It provides opportunities for professionals in the pharmaceutical management industry to gather for educational presentations and networking events. The 2013 Conference will be held on May 5-8, at the Hyatt Regency Coconut Point, Bonita Springs, Florida.
2011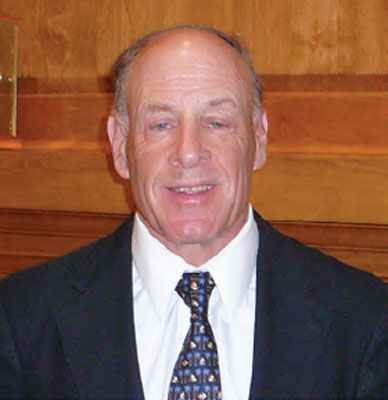 For exceptional contributions to both the pharmaceutical industry, in which he has worked for 41 years, and to PMSA, for 12 years of board service (the longest of any board member throughout PMSA's history), PMSA awarded Mark Rose the inaugural Lifetime Achievement Award, in 2011. We would like to thank Mark for outstanding support of PMSA, including attending 30 PMSA main conferences, contributing by presenting at 11 of them, providing organizational history and helping us keep in touch with both our founding values and our founding members, offering suggestions, input, and help throughout the years, and staying engaged from the inception of the organization to the present. For his enduring commitment and dedication to PMSA and its principles, we honor Mark.
Mark's acceptance speech is below:
I am honored to receive the PMSA's Lifetime Achievement Award. I look back at my 30+ years of attending the conference with no regrets. Each year I would come back from the annual meeting and wonder how the next one could get any better. And it did…every year!
Long ago I read where most companies (and organizations) last no longer than a generation. The PMSA is well into its 2nd generation and in spite of the hardships in the economy and the downsizing in the industry, it continues to be a forum where important issues pertaining to the science of management are presented and discussed. It also continues to be a forum for cutting edge ideas. And it continues to hold meetings far from its roots in the cold northeast – in warmer and scenic climes which the founding group yearned for, e.g., Miami this year. What has resonated with me most in recent years is that management scientists – both internal and external - have become mainstays in most departments and necessary for their use of rigorous analysis and modeling to support major decisions of a company.
When we first convened back in 1976, the charter group of the PMSA was looking for a forum of industry colleagues to bounce ideas off of…in a sense a community for peer review. (That was Anand Patil's idea, by the way, from his sojourn to an "off the record" industry discussion at the national TIMS summer meeting in Colorado where participants shared their experiences among peers and any comments/remarks were carried home in the minds, but not on paper.) This idea of "a community for peer review" has not changed over the years. In fact, I am delighted that there continues to be more presentations than slots and that the program committee has a different job of paring down the presentations to the best ones vs. trying to find enough people willing and able to share their company's problems and solutions.
Also, I have often related a defining incident when attending a Fall conference at our sister organization, the PMRG, where Prof. Paul Green from Wharton, revered of conjoint analysis fame, got up to deliver a talk on "hybrid, componential segmentation" and before he finished explaining the 4th subscript of his equation, half the audience had adjourned to the bar. After that, I was always fond of saying that the PMSA is an organization "where one can put up an equation on the board and the audience will not walk out"!
I've had many personally satisfying moments at the PMSA – in presenting novel analyses and models, in recruiting company and industry executives and academics as participants and speakers and in gleaning insights from many fellow management scientists' talks over the years. The bottom line was always how these analyses and models were initially received back at the office…and boardroom. In my case, well enough to allow me to keep coming to the conference…and watching with satisfaction the growth of the association from an informal gathering of a dozen introspective "quants" (affectionately dubbed as a "conference of nerds" by my wife) to a professional organization of over 200 analytically inclined members and attendees.
While I am currently focused in a different area of pharma, namely, the clinical side, I hope to stay active in operations research and statistics for a few more years and maybe get back to the group and present my experiences in modeling and analyzing the clinical process. Again, my sincere thanks to the PMSA Board and organization for this honor and recognition!