Recommendations from PMSA members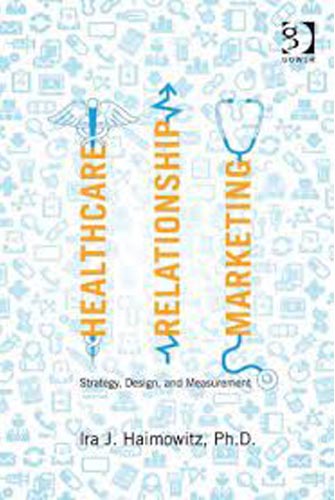 Healthcare Relationship MarketingAuthor:
Ira J. Haimowitz
ISBN:
978-0566092176
In recent years there have been dramatic changes in the pharmaceutical promotional landscape, affecting both consumers and healthcare professionals. One consequence of these dynamics is the need for pharmaceutical companies to plan new kinds of dialogue and relationships with their stakeholders. The evolution has been from mass-channel "push" marketing to two-way, multi-channel relationship marketing. Targeted Emails, webinars, mobile messages, and social networks are expanding in usage. This book is a practical overview and resource guide for the design and measurement of pharmaceutical relationship marketing (RM) programs. There are descriptions of each aspect of pharmaceutical RM design and measurement, including a running case study with follow-up exercises. The author has also conducted interviews from several pharmaceutical marketing industry experts, each having 15 years or more of working healthcare RM knowledge, and each speaking on their specific specialities. For newcomers to healthcare marketing, this book can serve as a foundation and introduction that provides framework, details, and examples of both relationship marketing designs and associated measurement disciplines. Healthcare Relationship Marketing will also be valuable to readers currently working in pharmaceutical marketing or sales who may not have exposure to the particular disciplines of relationship marketing and direct response measurement and optimization. Even for the experienced practitioner this will serve as a convenient reference that pulls together all of the program components and measurement frameworks within a single book. This book may also serve as a textbook within a university course in marketing, or a pharmaceutical business program.
Predictably Irrational
Author: Dan Ariely
ISBN: 978-0061854545
In this revised and expanded edition of the New York Times and Wall Street Journal bestseller Predictably Irrational, Duke University's behavioral economist Dan Ariely explores the hidden forces that shape our decisions, including some of the causes responsible for the current economic crisis. Bringing a much-needed dose of sophisticated psychological study to the realm of public policy, Ariely offers his own insights into the irrationalities of everyday life, the decisions that led us to the financial meltdown of 2008, and the general ways we get ourselves into trouble.
Blending common experiences and clever experiments with groundbreaking analysis, Ariely demonstrates how expectations, emotions, social norms, and other invisible, seemingly illogical forces skew our reasoning abilities. As he explains, our reliance on standard economic theory to design personal, national, and global policies may, in fact, be dangerous. The mistakes that we make as individuals and institutions are not random, and they can aggregate in the market--with devastating results. In light of our current economic crisis, the consequences of these systematic and predictable mistakes have never been clearer.
Packed with new studies and thought-provoking responses to readers' questions and comments, this revised and expanded edition of Predictably Irrational will change the way we interact with theworld--from the small decisions we make in our own lives to the individual and collective choices that shape our economy.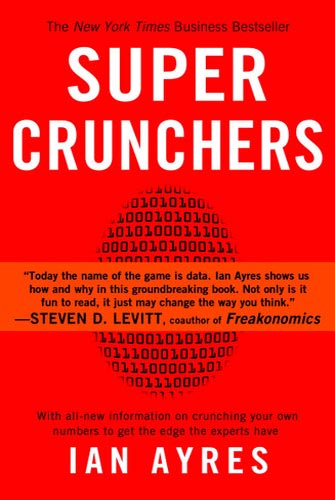 Super Crunchers: Why Thinking-by-Numbers Is the New Way to Be Smart
Author: Ian Ayres
ISBN: 978-0553384734
An international sensation—and still the talk of the relevant blogosphere—this Wall Street Journal and New York Times business bestseller examines the "power" in numbers. Today more than ever, number crunching affects your life in ways you might not even imagine. Intuition and experience are no longer enough to make the grade. In order to succeed—even survive—in our data-based world, you need to become statistically literate.
Cutting-edge organizations are already crunching increasingly larger databases to find the unseen connections among seemingly unconnected things to predict human behavior with staggeringly accurate results. From Internet sites like Google and Amazon that use filters to keep track of your tastes and your purchasing history, to insurance companies and government agencies that every day make decisions affecting your life, the brave new world of the super crunchers is happening right now. No one who wants to stay ahead of the curve should make another keystroke without reading Ian Ayres's engrossing and enlightening book.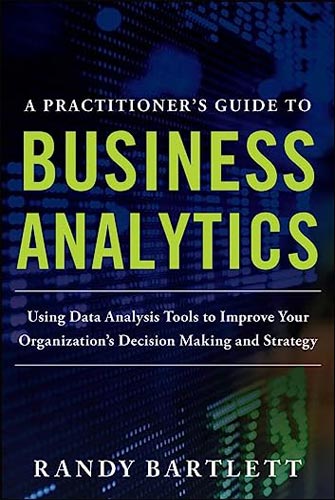 A Practitioner's Guide to Business Analytics: Using Data Analysis Tools to Improve Your Organization's Decision Making and Strategy
Author: Randy Bartlett
ISBN: 978-0071807609
The real tragedy of a company failing while using analytics is the fact that its leaders will have the data to explain the failure, but they won't have the capabilities in place to effectively filter the data and convert it into actionable business insights. One implication of Big Data is that we need to adapt … quickly. A Practitioner's Guide to Business Analytics integrates powerful strategies for leveraging analytics inside a business with a how-to playbook of tactics to make it happen.
The case for competing based on analytics is clear, but until now, there hasn't been authoritative guidance for inciting a corporate community to evolve into a thriving, analytics-driven environment. This hands-on book gives you the tools, knowledge, and strategies to capture the level of organizational commitment you need to get business analytics up and running in your company. It helps you coherently define what business analytics is, quantify the exponential value it brings to an organization, and show others how to harness its power to gain advantage over competitors.
Accomplished business information professional Randy Bartlett brings his comprehensive coverage to life with firsthand accountants of using business analytics at brand-name global companies. Through in-depth examinations of success stories and failures in analytics-based decision making and data analyses, he fully prepares you to:
Assess your company's analytics needs and capabilities, and develop a strategic analytics plan
Steward the three pillars of Best Statistical Practice and accurately measure the quality of analytics-based decisions and data analyses
Build and organize a specialized Business Analytics Team to lead infrastructural changes
Upgrade the foundation supporting business analytics—data collection, data software, and data management
Create the essential synergy for success between the Business Analytics Team and IT
Effectively integrating analytics into everyday decision making, corporate culture, and business strategy is a multi-front exercise in leadership, execution, and support. The specialized tools and skill sets required to succeed are finally in one resource — A Practitioner's Guide to Business Analytics.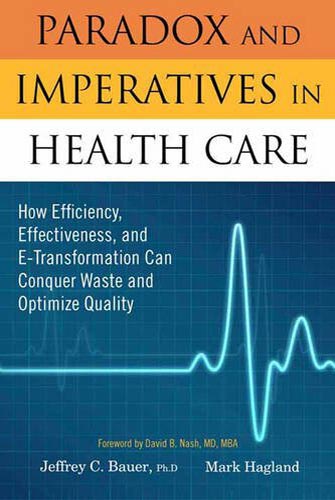 Paradox and Imperatives in Health Care: How Efficiency, Effectiveness, and E-Transformation Can Conquer Waste and Optimize Quality
Authors: Jeffrey C. Bauer and Mark Hagland
ISBN: 978-1563273797
Most hospitals, health systems, and other provider organizations in the United States are facing real financial peril. Mounting receivables from high-deductible health plans, financially challenged consumers, continuing cuts in Medicare, and a precarious economic environment suggest that real health care revenue has peaked. With operating costs increasing and critical investments in infrastructure―both physical and virtual―not being made, health care providers must find new ways to survive. In their groundbreaking collaboration, Paradox and Imperatives in Health Care, award-winning authors Jeffrey C. Bauer and Mark Hagland explain why providers must draw upon internal resources to increase net revenue and provide the quality of care that payers and consumers are demanding. Through numerous case studies, the authors show how pioneering health care organizations are using performance improvement tools―including lean management, Six-Sigma, and the Toyota Production System―to produce excellent services as inexpensively as possible. This book challenges health care leaders to change their status quo mentality and to put their organizations on a positive path ... while redirection is still possible.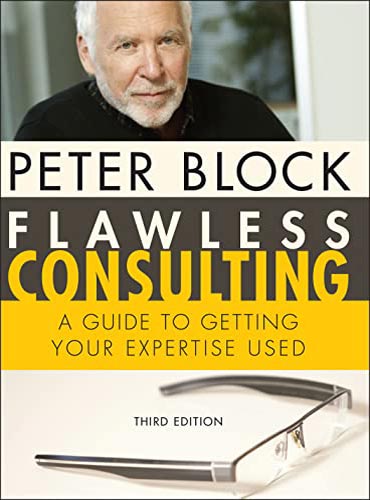 Flawless Consulting : A Guide to Getting Your Expertise Used
Author: Peter Block
ISBN: 978-0470620748
When the landmark best-seller Flawless Consulting was first published more than three decades ago, it was quickly adopted as the "consultant''s bible." With his legendary warmth and passion, Peter Block explained how to deal effectively with clients, peers, and others. The book continues to speak to people in a support function inside organizations as well as to external consultants. This thoroughly revised and updated third edition of Peter Block''s groundbreaking book explores the latest thinking on consultation. It includes new insights about how we can organize our consulting around discovering the strengths, positive examples, and gifts of the client organization or community. The book remains a practical and specific guide for anyone who needs to develop a capacity for deeper relatedness and partnership -- which means it is for all who wish to make a real difference in the world.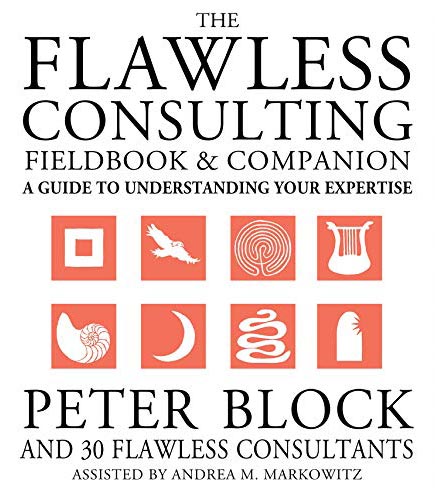 The Flawless Consulting Fieldbook and Companion: A Guide Understanding Your Expertise
Author: Peter Block
ISBN: 978-0787948047
In this time of free agency, outsourcing, and cross-functional work teams, consulting has become a part of everyone's job. Plus, we live in an era in which we are forced to hire professionals to provide the help we used to seek from friends. Some of this need for instant expertise is for reassurance; some is just that we do not have time to learn it ourselves. So, despite all the ambivalence surrounding consulting, it has grown into big business and generally infiltrated our lives.The intent of this book is:
To support the integrity of your expertise
To change your mind about how you interpret your own consulting experienceTo broaden your way of thinking
To bring a manageable dose of therapy and art, philosophy and literature into you thoughts about consulting, and
To show it in a comforting and simple way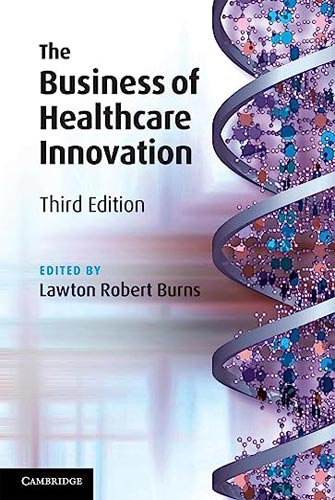 The Business of Healthcare Innovation
Author: Lawton Robert Burns
ISBN: 978-1108749060
The tech sectors are the least understood portion of the healthcare system, but the ones that supply most of the innovation in healthcare services and generate most revenue. Fully updated for this third edition, The Business of Healthcare Innovation is a wide-ranging analysis of business models and trends in the tech sectors of the healthcare industry. It provides a thorough overview of and introduction to the innovative sectors that fuel improvements in healthcare: pharmaceuticals, biotechnology, life science startups, medical devices and information technology. For each sector, the book examines the trends in scientific innovation, the science behind that innovation, the business and revenue models pursued to commercialize that innovation, the regulatory constraints within which each sector must operate and the growing issues posed by activist payers and consumers. From a combination of academic and industry perspectives, the authors show why healthcare sectors are such an important source of growth in any nation's economy.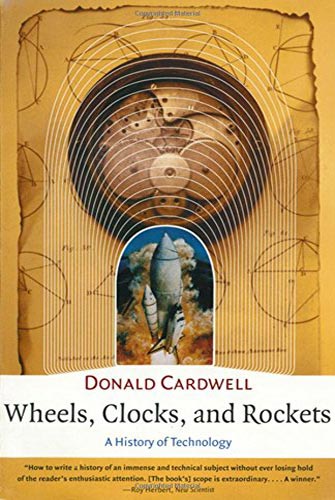 Wheels, Clocks, and Rockets: A History of Technology (Norton History of Science)
Author: Donald Cardwell
ISBN: 978-0393321753
As technology transforms our lives at an ever quickening rate, Donald Cardwell reminds us that technological innovation is not created in a vacuum―rather, it is the product of the successful interaction between social change, scientific developments, and political vision. In this wide-ranging, "spirited" (Booklist) survey of the machines and tools that humans have developed throughout history, Cardwell not only explains the mechanical technicalities but also delves into the underlying trends that have culminated in eras of great change. In particular, he highlights the eighteenth century as a watershed in the modern history of technology, analyzing how scientific developments in physics and chemistry spurred the mechanical innovations of the Industrial Revolution. From the steam engine to electrical power to nuclear energy to today's world of electronics and computers, this book opens a discussion of how science and technology together change our lives. Originally published as The Norton History of Technology.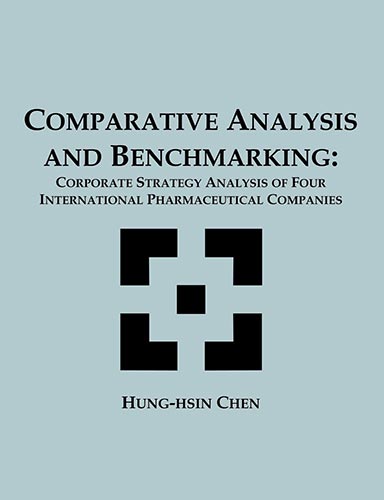 Comparative Analysis and Benchmarking: Corporate Strategy Analysis of Four International Pharmaceutical Companies
Author: Hung-Hsin Chen
ISBN: 978-1581121896
This research of corporate strategy analysis implements comparative analysis and benchmarking to analyse and examine the corporate strategy of the pharmaceutical sectors of 4 international pharmaceutical companies. This research adopts the hybrid approach of combining qualitative and quantitative methods in a two stages research design. Quantitative method is applied first to deal with the comparative figures, and then qualitative method is used to find out the problem. The design of this multiple research includes three phases: data collection, analysis, and reporting. The findings of this research can be divided into 4 parts: R&D/marketing, technology alliances, strategic acquisitions and merger, and manufacturing. The drug innovative projects are recommended being developed within the company's familiar therapeutic areas in order to take its marketing advantage. Through this comparative analysis, some of this type of problems of these international pharmaceutical companies is identified. A big pharmaceutical company forming alliances with some small biotechnology companies has become a trend within pharmaceutical industry since 1980s. For pharmaceutical companies, to take advantage of R&D through biotechnology is the main purpose of alliances with small biotechnology companies. It is important to note that most pharmaceutical acquisitions belong to the type of absorption with high resource transferring and low autonomy. Due to the high profit margin and the essential importance of R&D and marketing, the operation management of manufacturing of pharmaceutical industry is relatively poor. The low asset utilisation rate pointed out this problem. Academic researches have revealed that existing theories of operation management of manufacturing, such as action research, set-up reduction, teamwork, continuous improvement, collaboration, and involvement, are applicable and beneficial to pharmaceutical industry rather than waiting for the technology breakthroughs.
Forecasting for the Pharmaceutical Industry: Models for New Product and In-Market Forecasting and How to Use Them
Author: Arthur G. Cook
ISBN: 978-1472460110
Forecasting for the Pharmaceutical Industry is a definitive guide for forecasters as well as the multitude of decision makers and executives who rely on forecasts in their decision making. In virtually every decision, a pharmaceutical executive considers some type of forecast. This process of predicting the future is crucial to many aspects of the company - from next month's production schedule, to market estimates for drugs in the next decade. The pharmaceutical forecaster needs to strike a delicate balance between over-engineering the forecast - including rafts of data and complex 'black box' equations that few stakeholders understand and even fewer buy into - and an overly simplistic approach that relies too heavily on anecdotal information and opinion. Arthur G. Cook's highly pragmatic guide explains the basis of a successful balanced forecast for products in development as well as currently marketed products. The author explores the pharmaceutical forecasting process; the varied tools and methods for new product and in-market forecasting; how they can be used to communicate market dynamics to the various stakeholders; and the strengths and weaknesses of different forecast approaches. The text is liberally illustrated with tables, diagrams and examples. The final extended case study provides the reader with an opportunity to test out their knowledge. The second edition has been updated throughout and includes a brand new chapter focusing on specialized topics such as forecasting for orphan drugs and biosimilars.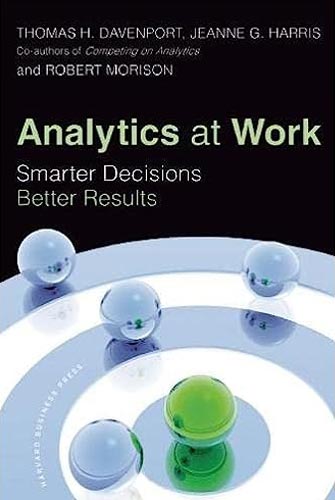 Analytics at Work: Smarter Decisions, Better Results
Authors: Thomas H. Davenport, Jeanne G. Harris, Robert Morison
ISBN: 978-1422177693
Most companies have massive amounts of data at their disposal, yet fail to utilize it in any meaningful way. But a powerful new business tool - analytics - is enabling many firms to aggressively leverage their data in key business decisions and processes, with impressive results.
In their previous book, Competing on Analytics, Thomas Davenport and Jeanne Harris showed how pioneering firms were building their entire strategies around their analytical capabilities. Rather than "going with the gut" when pricing products, maintaining inventory, or hiring talent, managers in these firms use data, analysis, and systematic reasoning to make decisions that improve efficiency, risk-management, and profits.
Now, in Analytics at Work, Davenport, Harris, and coauthor Robert Morison reveal how any manager can effectively deploy analytics in day-to-day operations—one business decision at a time. They show how many types of analytical tools, from statistical analysis to qualitative measures like systematic behavior coding, can improve decisions about everything from what new product offering might interest customers to whether marketing dollars are being most effectively deployed. Based on all-new research and illustrated with examples from companies including Humana, Best Buy, Progressive Insurance, and Hotels.com, this implementation-focused guide outlines the five-step DELTA model for deploying and succeeding with analytical initiatives. You'll learn how to:
Use data more effectively and glean valuable analytical insights
Manage and coordinate data, people, and technology at an enterprise level
Understand and support what analytical leaders do
Evaluate and choose realistic targets for analytical activity
Recruit, hire, and manage analysts
Combining the science of quantitative analysis with the art of sound reasoning, Analytics at Work provides a road map and tools for unleashing the potential buried in your company's data.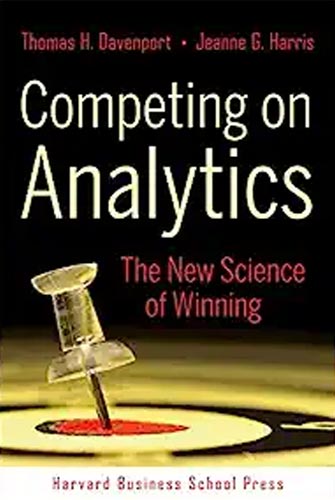 Competing on Analytics: The New Science of Winning
Authors: Thomas H. Davenport, Jeanne G. Harris
ISBN: 978-1422103326
You have more information at hand about your business environment than ever before. But are you using it to "out-think" your rivals? If not, you may be missing out on a potent competitive tool.
In Competing on Analytics: The New Science of Winning, Thomas H. Davenport and Jeanne G. Harris argue that the frontier for using data to make decisions has shifted dramatically. Certain high-performing enterprises are now building their competitive strategies around data-driven insights that in turn generate impressive business results. Their secret weapon? Analytics: sophisticated quantitative and statistical analysis and predictive modeling.
Exemplars of analytics are using new tools to identify their most profitable customers and offer them the right price, to accelerate product innovation, to optimize supply chains, and to identify the true drivers of financial performance. A wealth of examples—from organizations as diverse as Amazon, Barclay's, Capital One, Harrah's, Procter & Gamble, Wachovia, and the Boston Red Sox—illuminate how to leverage the power of analytics.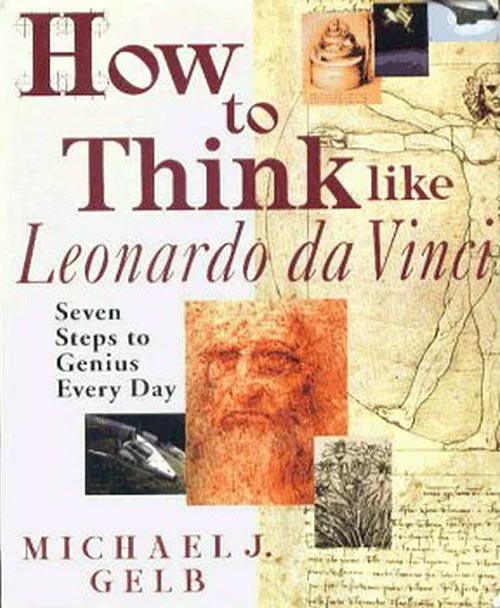 How to Think Like Leonardo da Vinci: Seven Steps to Genius Every Day
Author: Michael J. Gelb
ISBN: 978-0385323819
Acclaimed author Michael J. Gelb, who has helped thousands of people expand their minds to accomplish more than they ever thought possible, shows you how. Drawing on Da Vinci's notebooks, inventions, and legendary works of art, Gelb introduces Seven Da Vincian Principles—the essential elements of genius—from curiosità, the insatiably curious approach to life to connessione, the appreciation for the interconnectedness of all things. With Da Vinci as your inspiration, you will discover an exhilarating new way of thinking. And step-by-step, through exercises and provocative lessons, you will harness the power—and awesome wonder—of your own genius, mastering such life-changing abilities as:
Problem solving
Creative thinking
Self-expression
Enjoying the world around you
Goal setting and life balance
Harmonizing body and mind
Drawing on Da Vinci's notebooks, inventions, and legendary works of art, acclaimed author Michael J. Gelb, introduces seven Da Vincian principles, the essential elements of genius, from curiosita, the insatiably curious approach to life, to connessione, the appreciation for the interconnectedness of all things. With Da Vinci as their inspiration, readers will discover an exhilarating new way of thinking.
Step-by-step, through exercises and provocative lessons, anyone can harness the power and awesome wonder of their own genius, mastering such life-changing skills as problem solving, creative thinking, self-expression, goal setting and life balance, and harmonizing body and mind.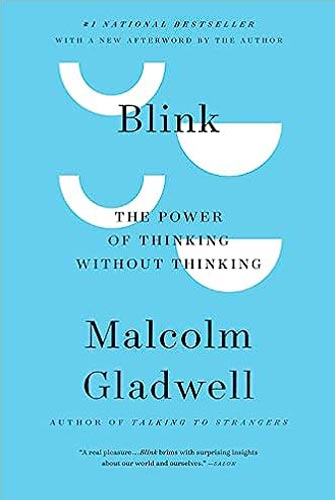 Blink: The Power of Thinking Without Thinking
Author: Malcolm Gladwell
ISBN: 978-0316172325
In his breakthrough bestseller The Tipping Point, Malcolm Gladwell redefined how we understand the world around us. Now, in Blink, he revolutionizes the way we understand the world within. Blink is a book about how we think without thinking, about choices that seem to be made in an instant--in the blink of an eye--that actually aren't as simple as they seem. Why are some people brilliant decision makers, while others are consistently inept? Why do some people follow their instincts and win, while others end up stumbling into error? How do our brains really work--in the office, in the classroom, in the kitchen, and in the bedroom? And why are the best decisions often those that are impossible to explain to others?
In Blink we meet the psychologist who has learned to predict whether a marriage will last, based on a few minutes of observing a couple; the tennis coach who knows when a player will double-fault before the racket even makes contact with the ball; the antiquities experts who recognize a fake at a glance. Here, too, are great failures of "blink": the election of Warren Harding; "New Coke"; and the shooting of Amadou Diallo by police.
Blink reveals that great decision makers aren't those who process the most information or spend the most time deliberating, but those who have perfected the art of "thin-slicing"--filtering the very few factors that matter from an overwhelming number of variables.
The Tipping Point: How Little Things Can Make a Big Difference
Author: Malcolm Gladwell
ISBN: 978-0316346627
The tipping point is that magic moment when an idea, trend, or social behavior crosses a threshold, tips, and spreads like wildfire. Just as a single sick person can start an epidemic of the flu, so too can a small but precisely targeted push cause a fashion trend, the popularity of a new product, or a drop in the crime rate. This widely acclaimed bestseller, in which Malcolm Gladwell explores and brilliantly illuminates the tipping point phenomenon, is already changing the way people throughout the world think about selling products and disseminating ideas.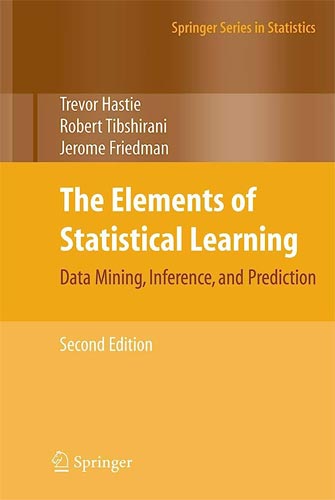 The Elements of Statistical Learning: Data Mining, Inference, and Prediction
Author: Trevor Hastie, Robert Tibshirani, Jerome Friedman
ISBN: 978-0387848570
This book describes the important ideas in a variety of fields such as medicine, biology, finance, and marketing in a common conceptual framework. While the approach is statistical, the emphasis is on concepts rather than mathematics. Many examples are given, with a liberal use of colour graphics. It is a valuable resource for statisticians and anyone interested in data mining in science or industry. The book's coverage is broad, from supervised learning (prediction) to unsupervised learning. The many topics include neural networks, support vector machines, classification trees and boosting---the first comprehensive treatment of this topic in any book.
This major new edition features many topics not covered in the original, including graphical models, random forests, ensemble methods, least angle regression & path algorithms for the lasso, non-negative matrix factorisation, and spectral clustering. There is also a chapter on methods for "wide'' data (p bigger than n), including multiple testing and false discovery rates.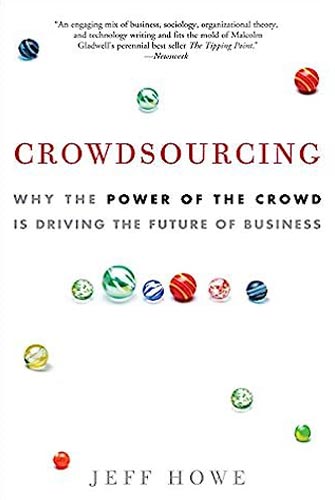 Crowdsourcing: Why the Power of the Crowd Is Driving the Future of Business
Author: Jeff Howe
ISBN: 978-0307396211
Why does Procter & Gamble repeatedly call on enthusiastic amateurs to solve scientific and technical challenges? How can companies as diverse as iStockphoto and Threadless employ just a handful of people, yet generate millions of dollars in revenue every year?
"Crowdsourcing" is how the power of the many can be leveraged to accomplish feats that were once the responsibility of a specialized few. Jeff Howe reveals that the crowd is more than wise–it's talented, creative, and stunningly productive. It's also a perfect meritocracy, where age, gender, race, education, and job history no longer matter; the quality of the work is all that counts. If you can perform the service, design the product, or solve the problem, you've got the job.
But crowdsourcing has also triggered a dramatic shift in the way work is organized, talent is employed, research is conducted, and products are made and marketed. As the crowd comes to supplant traditional forms of labor, pain and disruption are inevitable, and Howe delves into both the positive and negative consequences of this intriguing phenomenon. Through extensive reporting from the front lines of this workplace revolution, he employs a brilliant array of stories to look at the economic, cultural, business, and political implications of crowdsourcing.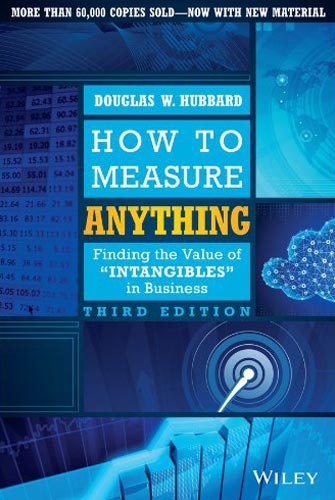 How to Measure Anything: Finding the Value of Intangibles in Business
Author: Douglas W. Hubbard
ISBN: 978-1118539279
Now updated with new measurement methods and new examples, How to Measure Anything shows managers how to inform themselves in order to make less risky, more profitable business decisions. This insightful and eloquent book will show you how to measure those things in your own business, government agency or other organization that, until now, you may have considered "immeasurable," including customer satisfaction, organizational flexibility, technology risk, and technology ROI.
Adds new measurement methods, showing how they can be applied to a variety of areas such as risk management and customer satisfaction
Simplifies overall content while still making the more technical applications available to those readers who want to dig deeper
Continues to boldly assert that any perception of "immeasurability" is based on certain popular misconceptions about measurement and measurement methods
Shows the common reasoning for calling something immeasurable, and sets out to correct those ideas
Offers practical methods for measuring a variety of "intangibles"
Provides an online database (www.howtomeasureanything.com) of downloadable, practical examples worked out in detailed spreadsheets.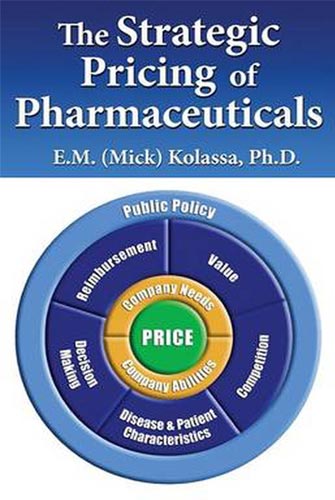 The Strategic Pricing of Pharmaceuticals
Author: E.M. (Mick) Kolassa, Ph.D.
ISBN: 978-0982371503
The Strategic Pricing of Pharmaceuticals explains how pharmaceutical prices are, and should be set, in the US and international markets. The book discusses how pharmaceuticals are different from other products in terms of value and why typical assumptions and approaches to pricing fail to consider the true nature of pharmaceuticals or to capture their value. This book provides pharmaceutical marketers with needed guidance through the use of in-depth discussions and analyses of the factors that should be considered when setting and managing pharmaceutical prices.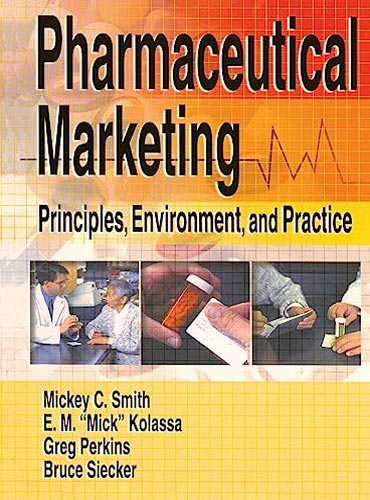 Pharmaceutical Marketing: Principles, Environment, and Practice
Author: Eugene Mick Kolassa, James Greg Perkins, Bruce R Siecker
ISBN: 978-0789015839
Written by leading authorities in the field, Pharmaceutical Marketing: Principles, Environment, and Practice is the fifth in Dr. Mickey Smith's series of books on the subject which began in the 1960s. In this extraordinary book, he and his co-authors examine the principles of marketing pharmaceuticals, describe the environmental factors that affect their application, and show how these principles can be applied in response to those factors in practice.
From the history and development of marketing pharmaceuticals to channel systems, legal requirements, budgeting, and product placement, this essential volume is a comprehensive text that will help students prepare for successful careers in this expanding field.
From editor Mickey Smith: Looking back on 40 years of experience, I've recently begun saying that most of the things I knew about pharmaceutical marketing over the years that made me so smart are not true anymore. But the fact is that the principles of marketing are as true as they were when they appeared in my first book (published in 1968). What has changed, and had to change, was the way the principles are applied.
This book is based on the premise that marketing follows certain principles and that pharmaceutical marketing is affected by a variety of environmental influences which lead to a rich array of marketing practices. These practices are presented to demonstrate how the successful application of marketing principleswith appropriate adaptation to environmental forcescan lead to success in the marketplace. Failures are also presented.
This well-referenced book explores and explains the principles and practical application of vital elements of pharmaceutical marketing, including:
product pricingwith sections on trends, competition, reimbursement programs, public policy, and more
research and developmentincluding strategies relating to new products, product scope, positioning and repositioning, product elimination, diversification, and a fascinating case study about Ibuprofen
promotionrational and nonrational appeals, advertising prescription drugs to consumers, strategic choices among media types, budgeting, and more
place factors, channel systems, physical distribution, and specialists
and much more!
Ideal for anyone entering or studying the pharmaceutical industry, Pharmaceutical Marketing: Principles, Environment, and Practice is a one-stop source of reliable knowledge that you'll refer to again and again! In the editor's words, Good marketing leads to good medicine. Exceptions exist, but when the system works, bad marketing never succeeds for longand neither does bad medicine.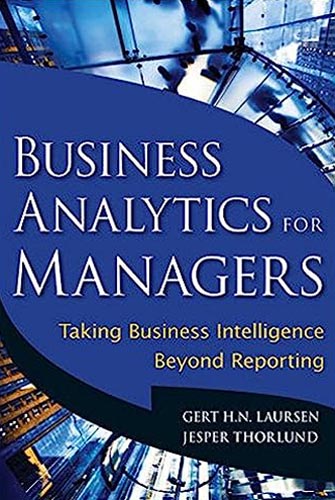 Business Analytics for Managers: Taking Business Intelligence Beyond Reporting
Author: Gert H. N. Laursen, Jesper Thorlund
ISBN: 978-0470890615
World-class guidance for delivering the right decision support to the right people at the right time. A vital blueprint for organizations that want to thrive in the competitive fray, Business Analytics for Managers presents a sustainable business analytics (BA) model focusing on the interaction of IT technology, strategy, business processes, and a broad spectrum of human competencies and organizational circumstances.
Proven guidance on developing an information strategy
Tips for supporting your company's ability to innovate in the future by using analytics
An understanding of BA as a holistic information discipline with links to your business's strategy
Practical insights for planning and implementing BA
How to use information as a strategic asset
Why BA is the next stepping-stone for companies in the information age today
Discussion on BA's ever-increasing role
Filled with examples and forward-thinking guidance from renowned BA leaders Gert Laursen and Jesper Thorlund, Business Analytics for Managers offers powerful techniques for making increasingly advanced use of information in order to survive any market conditions.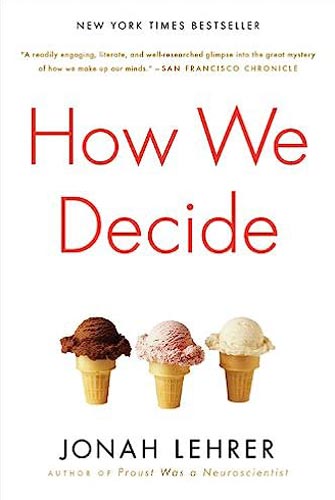 How We Decide
Author: Jonah Lehrer
ISBN: 978-0547247991
The first book to use the unexpected discoveries of neuroscience to help us make the best decisions.
Since Plato, philosophers have described the decision-making process as either rational or emotional: we carefully deliberate, or we 'blink' and go with our gut. But as scientists break open the mind's black box with the latest tools of neuroscience, they're discovering that this is not how the mind works. Our best decisions are a finely tuned blend of both feeling and reason and the precise mix depends on the situation. When buying a house, for example, it's best to let our unconscious mull over the many variables. But when we're picking a stock, intuition often leads us astray. The trick is to determine when to use the different parts of the brain, and to do this, we need to think harder (and smarter) about how we think.
Jonah Lehrer arms us with the tools we need, drawing on cutting-edge research as well as the real-world experiences of a wide range of "deciders" from airplane pilots and hedge fund investors to serial killers and poker players.
Lehrer shows how people are taking advantage of the new science to make better television shows, win more football games, and improve military intelligence. His goal is to answer two questions that are of interest to just about anyone, from CEOs to firefighters: How does the human mind make decisions? And how can we make those decisions better?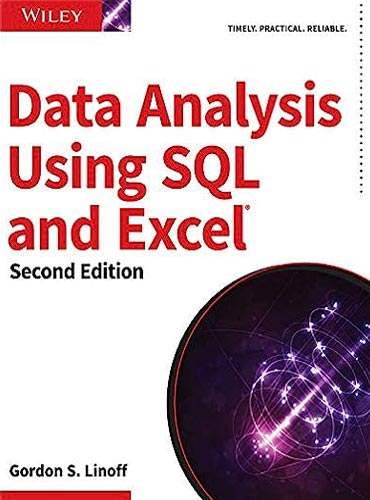 Data Analysis Using SQL and Excel
Author: Gordon S. Linoff
ISBN: 978-1119021438
Data Analysis Using SQL and Excel, 2nd Edition shows you how to leverage the two most popular tools for data query and analysis―SQL and Excel―to perform sophisticated data analysis without the need for complex and expensive data mining tools. Written by a leading expert on business data mining, this book shows you how to extract useful business information from relational databases. You'll learn the fundamental techniques before moving into the "where" and "why" of each analysis, and then learn how to design and perform these analyses using SQL and Excel. Examples include SQL and Excel code, and the appendix shows how non-standard constructs are implemented in other major databases, including Oracle and IBM DB2/UDB. The companion website includes datasets and Excel spreadsheets, and the book provides hints, warnings, and technical asides to help you every step of the way.
Data Analysis Using SQL and Excel, 2nd Edition shows you how to perform a wide range of sophisticated analyses using these simple tools, sparing you the significant expense of proprietary data mining tools like SAS.
Understand core analytic techniques that work with SQL and Excel
Ensure your analytic approach gets you the results you need
Design and perform your analysis using SQL and Excel
Data Analysis Using SQL and Excel, 2nd Edition shows you how to best use the tools you already know to achieve expert results.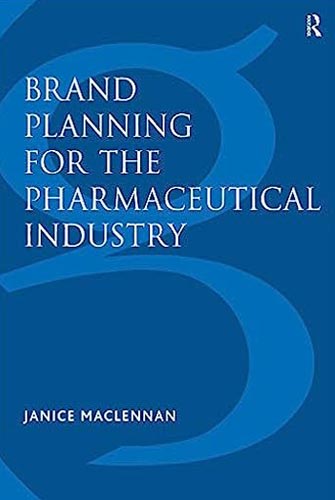 Brand Planning for the Pharmaceutical Industry
Author: Janice MacLennan
ISBN: 978-1138247826
Written by John Lidstone and Janice MacLennan, the second edition of Marketing Planning for the Pharmaceutical Industry became accepted as the bible for the industry. In this new companion book Janice MacLennan picks up two of the themes touched on in Marketing Planning - market segmentation and branding, and the inter-relationship between these two - and with this book makes them key topics for discussion. Brand Planning for the Pharmaceutical Industry begins by exploring what branding is and why it is of importance, particularly to the pharmaceutical sector. The book then goes on to show how branding can be integrated into the early stages of the commercialization process for new products, both in theory and in the 'real' world. The book provides a step-by-step guide to brand planning, using market segmentation as the starting point. The book is split into two parts, the first dealing comprehensively with brand planning for products yet to get to the market, with the second part applying the same process to products that are already on the market. Both parts are extremely pragmatic, full of pertinent examples and insights from the pharmaceutical industry, and are directly applicable to your own brand planning. Brand Planning for the Pharmaceutical Industry concludes by confronting the problems that organizations are likely to have in actually making brand planning an integral part of their work and presents strategies for dealing with them.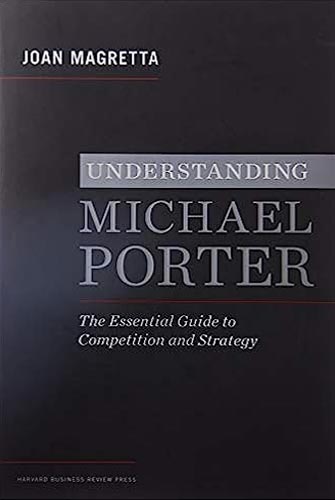 Understanding Michael Porter: The Essential Guide to Competition and Strategy
Author: Joan Magretta
ISBN: 978-1422160596
Competitive advantage. The value chain. Five forces. Industry structure. Differentiation. Relative cost. If you want to understand how companies achieve and sustain competitive success, Michael Porter's frameworks are the foundation. But while everyone in business may know Porter's name, many managers misunderstand and misuse his concepts.
Understanding Michael Porter sets the record straight, providing the first concise, accessible summary of Porter's revolutionary thinking. Written with Porter's full cooperation by Joan Magretta, his former editor at Harvard Business Review, this new book delivers fresh, clear examples to illustrate and update Porter's ideas.
Magretta uses her wide business experience to translate Porter's powerful insights into practice and to correct the most common misconceptions about them—for instance, that competition is about being unique, not being the best; that it is a contest over profits, not a battle between rivals; that strategy is about choosing to make some customers unhappy, not being all things to all customers.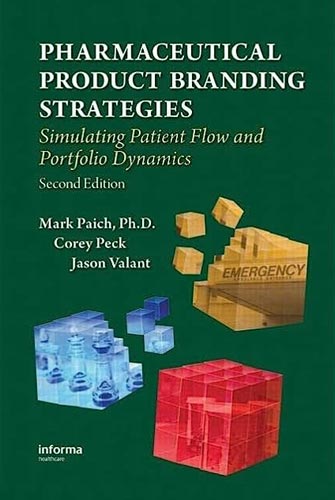 Pharmaceutical Product Branding Strategies: Simulating Patient Flow and Portfolio Dynamics
Author: Mark Paich, Corey Peck, Jason Valant
ISBN: 978-1420087703
This updated Second Edition details how marketers, forecasters, and brand planners can achieve optimal success by building internally consistent simulation models to project future behavior of patients, physicians, and R&D processes. By introducing the reader to the complexities facing many pharmaceutical firms, specifically issues around cross-functional coordination and knowledge integration, this guide provides a framework for dynamic modeling of interest to several pharmaceutical markets, including epidemiology, market definitions, compliance/persistency, and revenue generation in the context of patient flows or movements.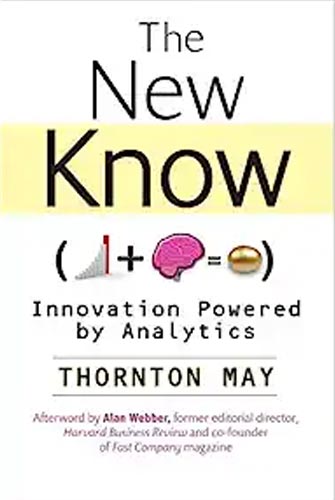 The New Know: Innovation Powered by Analytics
Author: Thornton May
ISBN: 978-0470461716
Learn to manage and grow successful analytical teams within your business
Examining analytics-one of the hottest business topics today-The New KNOW argues that analytics is needed by all enterprises in order to be successful. Until now, enterprises have been required to know what happened in the past, but in today's environment, your organization is expected to have a good knowledge of what happens next.
This innovative book covers
Where analytics live in the enterprise
The value of analytics
Relationships betwixt and between
Technologies of analytics
Markets and marketers of analytics
The New KNOW is a timely, essential resource to staying competitive in your field.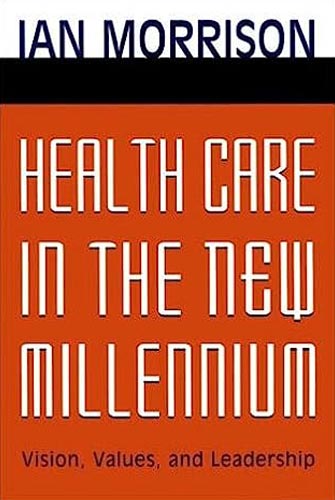 Health Care in the New Millennium: Vision, Values, and Leadership
Author: Ian Morrison
ISBN: 978-0787951153
Health Care in the New Millennium is written by futurist Ian Morrison-author of The Second Curve and Future Tense and one of our nation's foremost health care analysts.In this provocative book, Morrison gives health care executives, doctors, and nurses a guided tour of what's in store for health care in the coming years and explains
Why our one-trillion dollar health care industry has so many unhappy stakeholders
Why investor-owned health systems are failing
Why so few market-based reforms work
Why health care leaders need new visions of what is possible for the future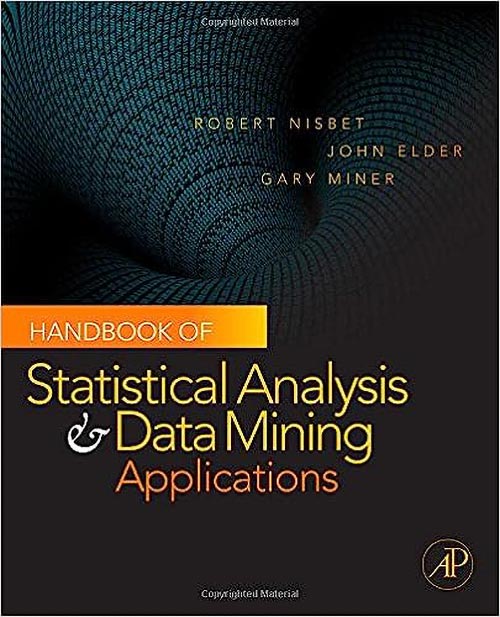 Handbook of Statistical Analysis and Data Mining Applications
Author: Robert Nisbet, John Elder, Gary D. Miner
ISBN: 978-0123747655
The Handbook of Statistical Analysis and Data Mining Applications is a comprehensive professional reference book that guides business analysts, scientists, engineers and researchers (both academic and industrial) through all stages of data analysis, model building and implementation. The Handbook helps one discern the technical and business problem, understand the strengths and weaknesses of modern data mining algorithms, and employ the right statistical methods for practical application. Use this book to address massive and complex datasets with novel statistical approaches and be able to objectively evaluate analyses and solutions. It has clear, intuitive explanations of the principles and tools for solving problems using modern analytic techniques, and discusses their application to real problems, in ways accessible and beneficial to practitioners across industries - from science and engineering, to medicine, academia and commerce. This handbook brings together, in a single resource, all the information a beginner will need to understand the tools and issues in data mining to build successful data mining solutions.
Written "By Practitioners for Practitioners"
Non-technical explanations build understanding without jargon and equations
Tutorials in numerous fields of study provide step-by-step instruction on how to use supplied tools to build models using Statistica, SAS and SPSS software
Practical advice from successful real-world implementations
Includes extensive case studies, examples, MS PowerPoint slides and datasets
CD-DVD with valuable fully-working 90-day software included: "Complete Data Miner - QC-Miner - Text Miner" bound with book
Microtrends: The Small Forces Behind Tomorrow's Big Changes
Author: Mark Penn, E. Kinney Zalesne
ISBN: 978-0446699761
Mark Penn, the man who identified "Soccer Moms" as a crucial constituency in President Clinton's 1996 reelection campaign, is known for his ability to detect relatively small patterns of behavior in our culture-microtrends that are wielding great influence on business, politics, and our personal lives. Only one percent of the public, or three million people, is enough to launch a business or social movement.
Relying on some of the best data available, Penn identifies more than 70 microtrends in religion, leisure, politics, and family life that are changing the way we live. Among them:
People are retiring but continuing to work.
Teens are turning to knitting.
Geeks are becoming the most sociable people around.
Women are driving technology.
Dads are older than ever and spending more time with their kids than in the past.
You have to look at and interpret data to know what's going on, and that conventional wisdom is almost always wrong and outdated. The nation is no longer a melting pot. We are a collection of communities with many individual tastes and lifestyles. Those who recognize these emerging groups will prosper.
Penn shows readers how to identify the microtrends that can transform a business enterprise, tip an election, spark a movement, or change your life. In today's world, small groups can have the biggest impact.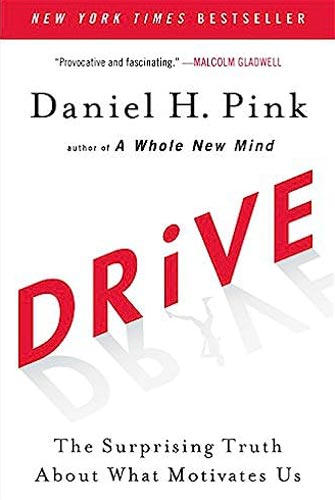 Drive: The Surprising Truth About What Motivates Us
Author: Daniel H. Pink
ISBN: 978-1594484803
The New York Times bestseller that gives readers a paradigm-shattering new way to think about motivation from the author of When: The Scientific Secrets of Perfect Timing
Most people believe that the best way to motivate is with rewards like money—the carrot-and-stick approach. That's a mistake, says Daniel H. Pink (author of To Sell Is Human: The Surprising Truth About Motivating Others). In this provocative and persuasive new book, he asserts that the secret to high performance and satisfaction-at work, at school, and at home—is the deeply human need to direct our own lives, to learn and create new things, and to do better by ourselves and our world.
Drawing on four decades of scientific research on human motivation, Pink exposes the mismatch between what science knows and what business does—and how that affects every aspect of life. He examines the three elements of true motivation—autonomy, mastery, and purpose-and offers smart and surprising techniques for putting these into action in a unique book that will change how we think and transform how we live.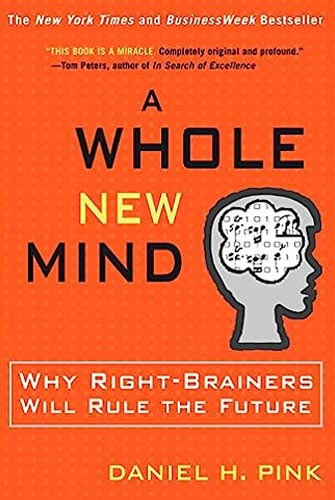 A Whole New Mind: Moving from the Information Age to the Conceptual Age
Author: Daniel H. Pink
ISBN: 978-1573223089
Lawyers. Accountants. Radiologists. Software engineers. That's what our parents encouraged us to become when we grew up. But Mom and Dad were wrong. The future belongs to a very different kind of person with a very different kind of mind. The era of "left brain" dominance, and the Information Age that it engendered, are giving way to a new world in which "right brain" qualities-inventiveness, empathy, meaning-predominate. That's the argument at the center of this provocative and original book, which uses the two sides of our brains as a metaphor for understanding the contours of our times.
In the tradition of Emotional Intelligence and Now, Discover Your Strengths, Daniel H. Pink offers a fresh look at what it takes to excel. A Whole New Mind reveals the six essential aptitudes on which professional success and personal fulfillment now depend, and includes a series of hands-on exercises culled from experts around the world to help readers sharpen the necessary abilities. This book will change not only how we see the world but how we experience it as well.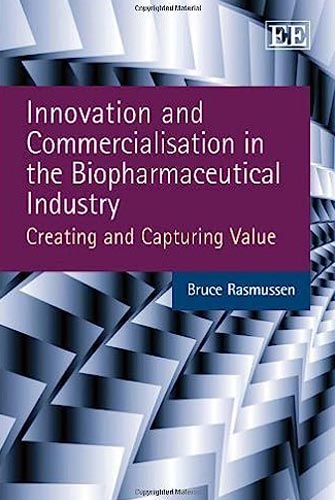 Innovation and Commercialisation in the Biopharmaceutical Industry: Creating and Capturing Value
Author: Bruce Rasmussen
ISBN: 978-1848447172
This path-breaking book addresses the ongoing implications for traditional pharmaceutical companies and biopharmaceutical start-ups of the realignment of the industry knowledge-base. The theoretical approach draws on the modern theory of the firm and related ideas in order to better define the concept of the business model, which is employed to guide the case studies and empirical analysis in the book. The author shows that while traditional pharmaceutical companies have successfully adjusted their business models to meet the challenges of biotechnology, biopharmaceutical start-ups have experienced more problems. Despite the poor financial performance of the vast majority of these firms, the biopharmaceutical sector as a whole has created significant value. However, this has been captured disproportionately by a handful of large, fully-integrated biopharmaceutical firms and, to a lesser extent, by the largest dozen pharmaceutical companies.This highly focused book will be a captivating read for innovation and biopharmaceutical industry analysts, as well as advisers formulating policies to support the development of the biopharmaceutical sector. Academics working on innovation and biotechnology, as well as scientists engaged in research in the life sciences, will also find this book of particular interest.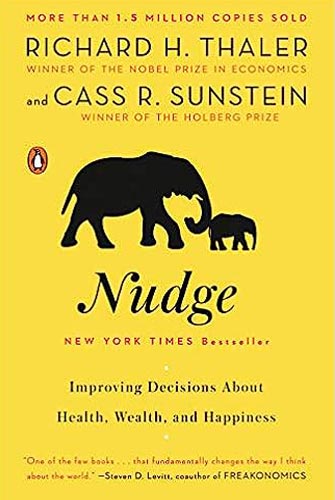 Nudge: Improving Decisions About Health, Wealth, and Happiness
Author: Richard H. Thaler, Cass R. Sunstein
ISBN: 978-0143115267
The original edition of the multimillion-copy New York Times bestseller by the winner of the Nobel Prize in Economics, Richard H. Thaler, and Cass R. Sunstein: a revelatory look at how we make decisions—for fans of Malcolm Gladwell's Blink, Charles Duhigg's The Power of Habit, James Clear's Atomic Habits, and Daniel Kahneman's Thinking, Fast and Slow
Every day we make choices—about what to buy or eat, about financial investments or our children's health and education, even about the causes we champion or the planet itself. Unfortunately, we often choose poorly. Nudge is about how we make these choices and how we can make better ones. Using dozens of eye-opening examples and drawing on decades of behavioral science research, Nobel Prize winner Richard H. Thaler and Harvard Law School professor Cass R. Sunstein show that no choice is ever presented to us in a neutral way, and that we are all susceptible to biases that can lead us to make bad decisions. But by knowing how people think, we can use sensible "choice architecture" to nudge people toward the best decisions for ourselves, our families, and our society, without restricting our freedom of choice.